28/06/2022 • Sveinn Muller
Save time with incoming invoice automation
Sorting through invoices can be quite time-consuming for companies. Allocating the right accounting dimensions manually for incoming invoices takes time and costs you money.
But with Origo's SAP incoming invoice automation add-on you can cut that time down significantly for up to 80% of all incoming invoices delivering your company a substantial decrease in cost.
Powerful Rule Engine
Origo has developed a time and cost-saving automation add-on into SAP that can help you automate your incoming invoices by using a powerful rule engine that assigns accounting attributes to your invoices automatically. After setting up simple rules for your vendors you should be able to automatically process up to 80% of your incoming invoices. The add-on is also able to differentiate invoices from the same vendor based on the item or items invoiced.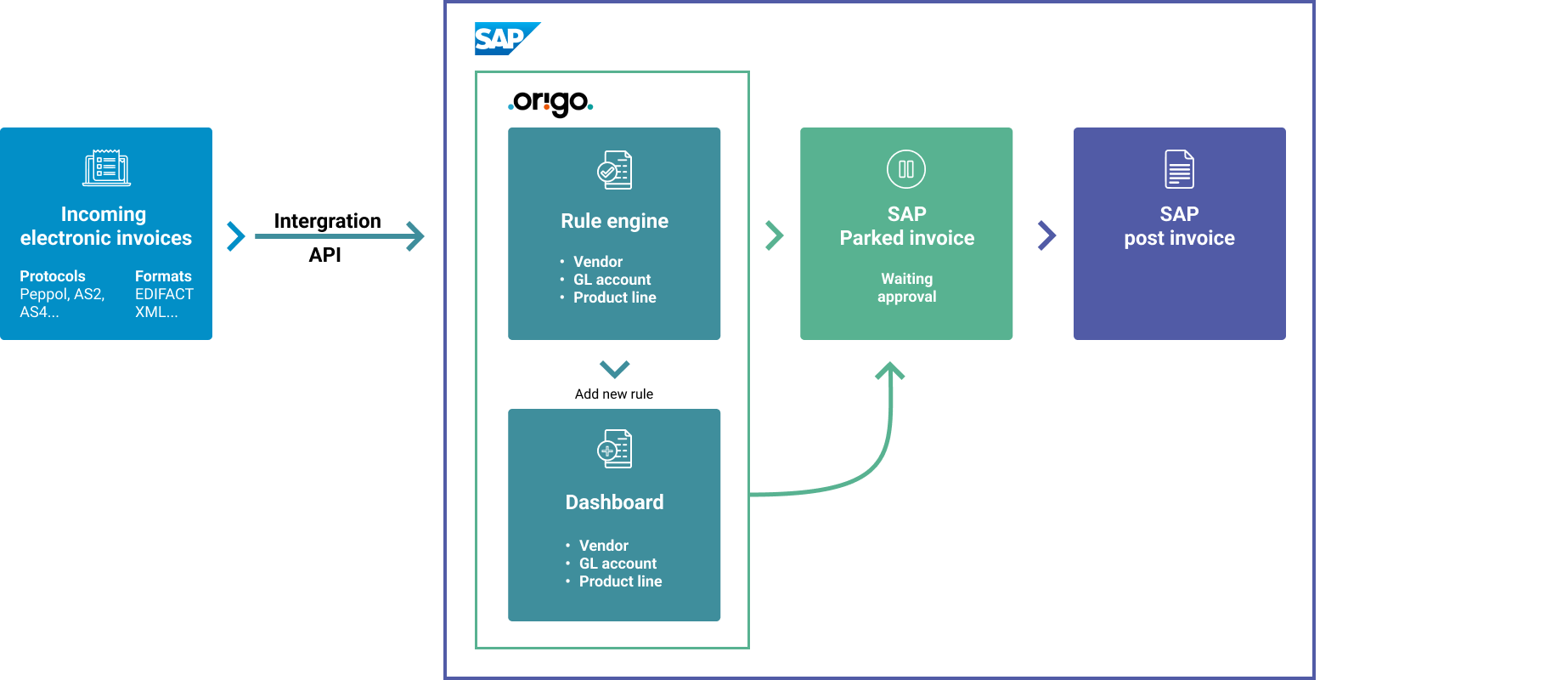 A flexible Rule Engine and Dashboard are key components of Origo's SAP add-on
Our rule engine is:
Easy to maintain and update

Can be based on multiple account dimensions like item lines

Grants an overview of all rules on one page
An excellent overview
With our Incoming Invoices Dashboard, you have a single point of entry where you have an overview of all incoming invoices, parked invoices, possible errors, and active rules. There you can set up new rules, correct errors, filter, sort and see a picture of original invoices.

SAP Incoming Invoices Dashboard
Paper, PDF and XML
Our solution can integrate with UniMaze, offering support for paper, PDF, EDI and XML invoices. This can take the time saving to the next level. Our incoming invoice automation add-on has support for PEPPOL, the e-Procurement platform. With PEPPOL you can standardize your company's ordering and invoicing processes to increase interoperability.
Added benefits
The automation add-on for SAP doesn't only help you to process invoices automatically cutting down time and cost, the add-on also has other added benefits: 
A decrease in overall errors due to no human errors

Conformity of processing - better for reporting and overview

Less repetition of work - no monotonous repetitive tasks

Decreased overhead - less time spent on processing 

Minimal software structure - easy maintenance and simple upgrades

Höfundur blogs
Sveinn Muller
Senior SAP FICO Consultant